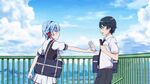 Fuuka Yuu Haruna has just moved to Tokyo, but while walking home in this new city, is accidently hit by a girl leaping across a sign. Adding insult to injury, she accuses him of attempting to take pictures of her panties and breaks his phone that he was using for twitter. Yuu is destined to meet this girl again, as while picking himself up, he notices she left one of her CDs behind...

Fuuka is Kouji Seo's newest manga, following the daughter of Suzuka and Yamato from Seo's previous work, Suzuka and the successor of his last, Kimi no Iru Machi.






Don't know anything about how to edit? Here are some guides that can be helpful for you:
Don't know how to help or improve this wiki? Here are some links that can guide you:
Featured Character
A friend and classmate of Fuuka, and later Yuu. He is friendly, sociable and openly-gay. He later joins Fuuka's band Fallen Moon. He was supposed to inherit his family's business but he pursue his love for music instead. He is a well know pianist and often plays on bars. Read more



Featured Chapter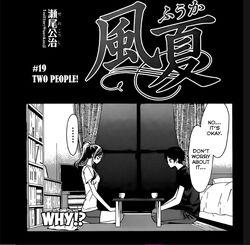 When Yuu Haruna came home, he saw Koyuki "Tama" Hinashi outside of his house. Since it has been a while since the two met, he told her to go in and talk. At first, Yuu was a little bit awkward since Tama is a famous artist but as they talk about the past, the awkwardness between the two childhood friends turned into nostalgia.
Poll
What are your thoughts on episode 2 of the anime?
We need your HELP! The wiki needs more editors that are dedicated to the anime and manga. If you know how to code, please do help by adding the necessary templates into the wiki.
Pictures and descriptions of each episodes and chapters are also very much welcomed! Please feel free to ask me if you need any help! ~~~~
Ad blocker interference detected!
Wikia is a free-to-use site that makes money from advertising. We have a modified experience for viewers using ad blockers

Wikia is not accessible if you've made further modifications. Remove the custom ad blocker rule(s) and the page will load as expected.