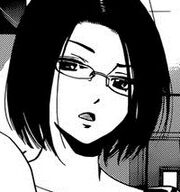 Yuu Haruna 's 2nd eldest sister, she goes to college in Tokyo and lives with her siblings Maya and Chitose . She tends to enjoy teasing Yuu, particularly about his unsociable behaviour and his tendency to be glued to his phone.
She seems rather averse to wearing clothes, and has made more than half of her appearances wearing nothing more than a towel and underwear.
Ad blocker interference detected!
Wikia is a free-to-use site that makes money from advertising. We have a modified experience for viewers using ad blockers

Wikia is not accessible if you've made further modifications. Remove the custom ad blocker rule(s) and the page will load as expected.